Texture Thursday!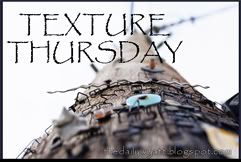 Things I know...
- I love Italian food. Doesn't seem to matter what type, I love them all!
-I want to swim at least 2 more times before the pools close, the only part of summer I really like!
-Conan is amazing to follow on twitter
-Playing dress-up is even more awesome when you fit in the clothes
-Drinking tea is way better than pretending to drink tea... even underwater
-No matter how many times I watch Friends two things happen: 1. I laugh 2. I wish I had a group of friends that were like that, don't get me wrong I have lovely friends but not a group that get together and are all close
-Every morning I was up thinking: today I will be funny... this never happens
-In my mind I am a world class dancer, singer, actor, musician, cook, artist... and then I wake up
-My sister and my sister-in-law are engaged!
-I often have too many things that I want to do, but that's everybody
What are things you know?