Short legs lead up to small hands mingled in a knot together as everything becomes a blur. Their eyes can only make out the other's laughing faces as they try to spin as fast as they can.
Years pass and those small feet slowly become larger, never managing to stop skipping. Each night they make their home in the same room each day to the same table. Their hands changing from small to large seemed to manage playing always inches apart, intertwined in story of their own making.
Shooting up in height, changing bodies and moving but still hands are held.
Fully grown and moving out those hands still make their way together. Each holding books as they make their way to class.
Hats thrown and tassels turned for one, the other standing at the bottom of the stairs clapping for only the other to hear. Tassels away and gowns returned, a ticket in one hand as two other hold fast to the other. The car is running outside and the crowd is thinning, all making their way. Slowly the hands are pulled apart. One set filled with a bag and a ticket the other left watching.
Countries apart those same hands dance their way across keys relaying information. One of adventure and beauty, the other of a new look of an old friend. Months pass each on their separate journeys. Ticket packed away, ready to clasp hands once more, only to find the other hands busy with another. Hands shown with adventure standing alone, watching in wonder as the hands that had always been only hers walk hand in hand with another; bells ring in the background, the two new hands now joined together forever.
The other left only to watch. Watch as the other goes on without her. Goes on seemingly unaware.
The once and seemingly forever clasped hands now separate. One riding down their sunset with another. The other unsure of what is next.
Those waiting hands find their own adventures round in many countries, before coming back to home. Home filled with life and stories to tell find a friend, who is a lot more then friendly. A friend who hands lay open waiting affection. Tentatively their hands move close but upon touch all doubt removed. In a blur bells are about to ring for these new hands when the old partners find their hands clasped once again. Affection in whispers behind a catch in the throat before placing her sister's hands in soft gentle hands of the found love.
Ring well worn on lay across her hand as she watches the new set of hand being joined; with each breath waves of emotion blow through her. With a kiss it's all done. They are off dancing away the evening. The other, well worn ring on finger, stands alone smiling at the other's joy. A large pair of hand wrap around her, a well worn ring in place much like her own. Overjoyed but somehow still with sadness, "we are not in Neverland"
My sister was married this Saturday. . .
Nothing could be sweeter than the love she shows for her now husband.
Congrats to my dear friend.
1. One Color
2. Laundry
3. Empty
4. One Dozen
5. Soft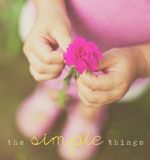 Best face from 2011 Submissions